Supreme Snowboarding



FAQ - Best Settings


To avoid conflicts, always install to c:\Games\Supreme\

Install in this order:
1. Setup.exe
2. SSB_UPDATE_1035.EXE
3. Add-on (version 1 June 2023)

Instead of 1.-3. you can install the limited edition.

The recommended Render device is OpenGL, see picture. The game usually runs smoothest with OpenGL

If you do not find OpenGL in the options, rename Supreme.exe to Supreme2.exe.

Please note: The times in the Hall of Fame are the DirectX6 times. The OpenGL times are often incorrect.

In case of continuous crashes of the Full version reinstall the Add-on. In case of continuous crashes of the limited edition reinstall the limited edition.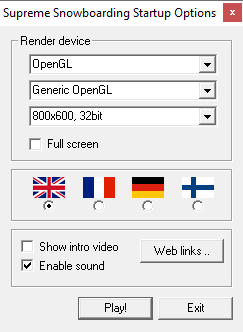 Startup Options after installation
of
Add-on
or limited edition